Rector's Sports Day on 25/4/2019! Join the University Event
VŠELYMPIÁDA is a new event of our University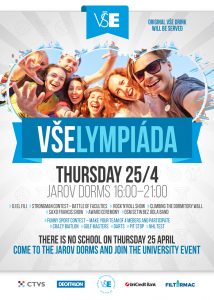 related to a Rector's sports day. There is no school on Thursday 25/4 so you can enjoy a nice and entertaining afternoon at the Jarov dorms.
There will be a big stage at the Jarov dorms. You could see the musical stars of our university: DJ EL FILI, SAXO FRANCIS and OSM SETIN BEZ JÍDLA BAND. The winners of VŠE TALENT will be also present, with their amazing Rock'n'roll show. At 6 p.m you can see famous powerlifting competition – representant from each faculty will be lifting a big tyre. Before that, you can try it too. If you are interested in trying funny sports and competitions make a team of four people and try nine activities around the dorms. For example VŠEbiatlon, White Line, Pit Stop, NHL test, Darts, VŠEverest and others. For the brave ones, there will be a possibility of climbing the dorms' wall. See you on Thursday at Jarov dorms.
Details available on the following website.